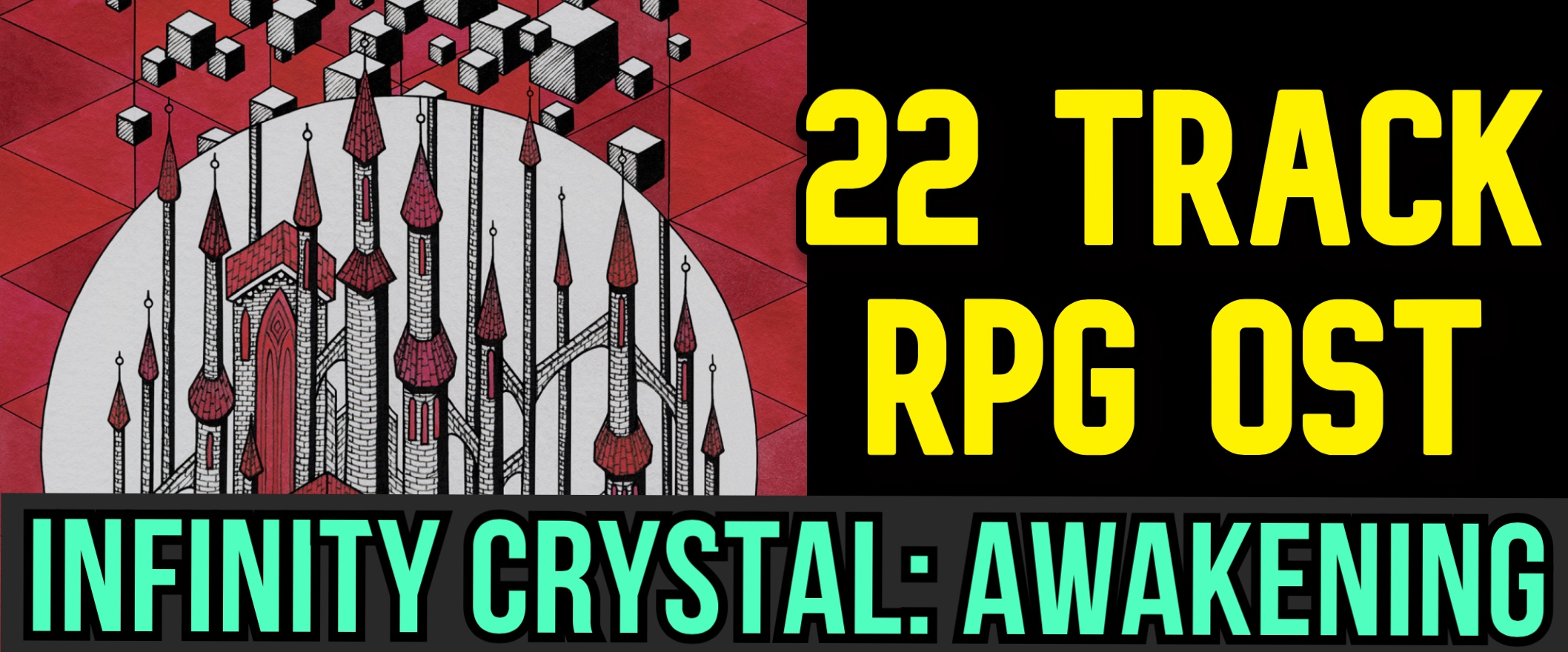 RPG music pack: INFINITY CRYSTAL
A downloadable music pack
About
This was a labour of love, very much inspired by my favourite mid-period Final Fantasies. My first music pack here! (There are now some more, too.)
Please let me know if you try it what you think; drop me a comment/rating if you enjoy and download this:)
I designed this collection to cover most of the main aspects you'd need to make a classic JRPG style game, at least as far as poss in twenty-ish tracks. So you've got your dungeon themes, a classic peaceful town, something eerier like an occupied town maybe, battles and tense situations, world map, airship music and a heaping of characters or places in different moods. Various tunes and motifs are shared across multiple tracks, giving the whole thing some pleasing cohesiveness. The sounds are semi-realistic, acoustic/orchestral + synthy atmospheres, and the odd electric guitar~
Some or all of these could also be used in other types of games of course... browse the titles and genres, have a listen.
All tracks loop except Rest (inn theme) and Largo (big thematic type piece) and are included where appropriate in initial versions* and then looping. (*You might choose to use the loop versions only, with a slight fade in; as this was my first music pack I've used separate versions more than I now think is really necessary.)
Usage
You may use some or all of these tracks in your game as long as you credit me, Sara Garrard, and if posting on itch, link my page, sonatina.itch.io. If you plan on making money with your game, a donation is appreciated, but not obligatory.
Also do let me know what you do with these, I'd love to see it!
Listen
More
This album can also be downloaded on bandcamp, in high q audio/choice of format, and also including tracks pre-looped for your listening pleasure as in the demos. And there's a playlist on youtube.
This was the first music pack I posted here, in 2020. I've since made a few more; here are some that might be especially relevant to a similar RPG style:
INFINITY CRISIS. The Crisis Core to Infinity Crystal's FFVII, if you will :D The edgier, more action-oriented sequel, feat. heavy guitars and traditional instruments. There's also a free version available with 10 tracks.

LET'S ADVENTURE! 10 tracks only but again aiming for a fairly wide range and potentially complete story. Using a bunch of sounds from 90s sound modules that, as it happens, were also used in various JRPGs of the period :)

SHADOWS/INFINITY: BATTLE ZONE. This is a fighting game rpg crossover type soundtrack, and includes new arrangements of two tracks from Infinity Crisis. There's a free version of a selection of the tracks.

Download
Click download now to get access to the following files:
Infinity Crystal_ Awakening mp3s.zip
68 MB
Infinity Crystal_ Awakening wavs.zip
716 MB
Infinity Crystal_ Awakening oggs.zip
126 MB
Comments
Log in with itch.io to leave a comment.
Thanks for the link! my French is pretty extremely weak but this looks like such a neat project from what I can see:)
I am using this for my game.
Do you mind if I use this music on youtube for the game introduction video?
Heya
Gonna use this for a gig that I am doing (client request tbh)
Hope it's okay, as I followed all the instructions in it.
If you want to contact me about it in any way, please feel free to do so.
Hi, exciting to hear! thanks for letting me know - feel free to link it here when it's done
Hi there! This is a super cool pack.
I got it on bandcamp and used it on a tiny game.
Oooh that's great, and thank you!
...I died, I'll have to try again :D definitely the good choice of track for the mood.
Woah yeah the track choice is really nice. The game also is pretty good. I survived the first time :)

I'm interested in adding this to my Libre Game Assets list.
Would you mind putting a formal license on it? The Free Software Foundation has a good explanation of why "informal licenses" are bad.
(For example, Germany errs on the side of protecting you from giving away too much when there's ambiguity, to the point where things can get very surprising. This analysis of how far the CC0 has to go to achieve "like Public Domain" status in Germany has more detail on that.)
Of the things that are offered by the "Asset license" selector for the "More Information" box, it looks like you're probably informally describing what the CC BY 4.0 gives you.
Excellent work. I think you've really captured the "heart" of classic JRPGs with a lot of these.
Rest, Take Flight / Airship, and Trust are all standouts IMO. (it's the details that matter!)